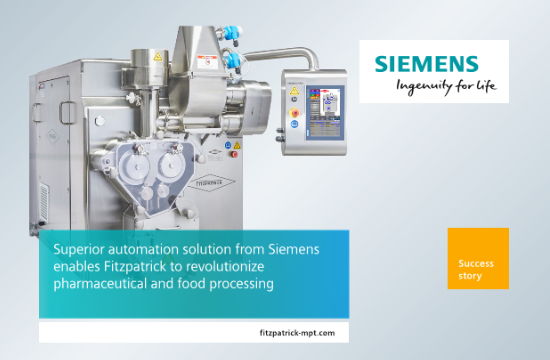 Offering easy to use and more efficient automation to the CCS Roll Compactor series.
Working in collaboration with Siemens
Siemens and Fitzpatrick have collaborated to modernize and set a new standard of excellence for the roll compaction range.
Arash Avvali, Senior Controls Engineer worked with Siemens to create an easy-to-use automation system for monitoring and control for the CCS range of Roll Compactors. These are now available with reporting capabilities that are fully compliant with the ultra stringent 21-CFR Part 11 requirement mandated by the Food and Drug Administration (FDA) in the United States.
Testing and success already
Three machines were originally manufactured and shipped for trial use - the feedback received enabled the team to give the go-ahead to sign this off for full manufacturing and subsequently two dozen more have been sent to customers in China, India, Western Europe and the USA.
A new benefit for the EMEA region
We listened to the feedback from the EMEA region, where Siemens is popular, and are now delighted to additionally offer this technology.
What we offer our customers
The Fitzpatrick Company is proud to be using the latest Siemens technology offering digital accountability and control. It is easy to use and provides the reassurance of easy serviceability and customer support. For example, with our customers' permission we have the ability to remotely access, diagnose and reset parameters if needed. We feel this will be of great benefit to our customers, if and when they need our help.
Learn more about the CCS Series
Fitzpatrick's CCS series of Roll Compactors provide scalable growth, from models designed for research and development through to the high capacity large production scale models. Learn more here
Contact us today for a consultation to discuss your processing needs.