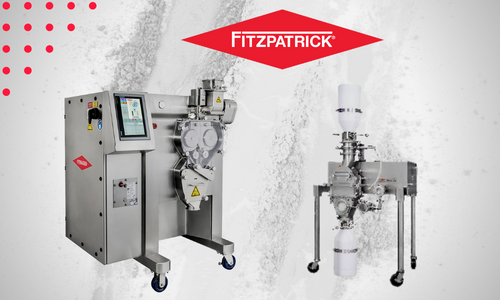 A global, fully integrated healthcare provider with multiple facilities located throughout India encountered production issues related to prolonged batch times, excessive handling requirements, and frequent particle size inconsistencies in their efforts to achieve uniform compact / ribbon in their dry granulation process. The company has in excess of 20,000 employees worldwide and impacts lives across four continents – including the United States and Europe.
Existing manufacturing process:
The customer was looking for a solution to facilitate decreased batch times and increased production throughput, and to optimize their existing roll compaction process in order to improve overall product quality. They had previously been using a roller compactor supplied by a well-known local supplier with various milling and sieving accessories. Unfortunately, the equipment could not produce consistent compacted sheets (uniform density / hardness), equating to unacceptable variations in product quality that ultimately led to problems with being able to produce uniform-sized granules at the specified bulk density.
How did the customer come to learn about Fitzpatrick?
The Fitzpatrick Company has many decades of experience utilizing roll compaction to granulate challenging, poor-flowing and moisture / heat-sensitive products. They approached the customer with the goal of supporting them in their efforts to improve upon their manufacturing process. Pharmaceutical manufacturers worldwide, have come to recognize Fitzpatrick's abilities in the area of dry granulation, having a demonstrated ability to achieve the most uniform compact / ribbon.
Equipment Selection:
Over the years, Fitzpatrick has achieved a high degree of proficiency in particle forming technology. They have revolutionized the Pharmaceutical Industry with their dry granulation / roller compactor equipment. Their extensive experience with the dry granulation process ultimately resulted in the development of the CCS Series of Contained Compaction Systems.
Fitzpatrick provided the customer with various CCS demo equipment options, but ultimately settled on the 320. The CCS320 was considered capable of fulfilling all the customer's process requirements.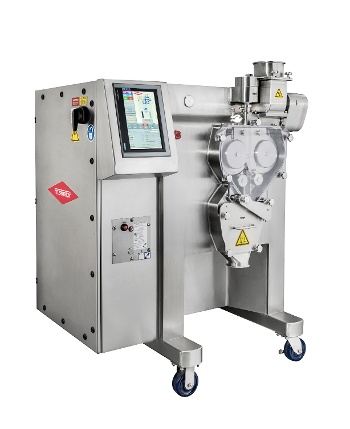 Implementation:
Fitzpatrick's on-going operator training enabled the customer to establish the appropriate automation process and operating parameters. Any obstacles encountered in the operation of the equipment were easily overcome with Fitzpatrick's ability to conduct online training.
How did the CCS320 Roll Compactor succeed where others had failed?
The CCS Series of roller compactors produces uniform compacts / ribbons that translate into the formation of uniform granules. The optimized granulated material improves downstream powder flow characteristics and subsequently, maximizes tableting efficiencies.
The CCS Series of roller compactors are designed with a dual-feed system. The horizontal feed screw pre-conditions the powder and meters a consistent flow to the process, automatically adjusting RPM to ensure constant roll gap and compact / ribbon thickness. The high-speed vertically mounted pre-compression screw removes air from most powders prior to the compaction process, thereby helping to achieve a more consistent compact / ribbon density. It also eliminates additional costs for a vacuum pump, air filter & associated controls. It ensures uniform powder flow into the roll nip area, improving compact / ribbon consistency and minimizing ungranulated material bypass.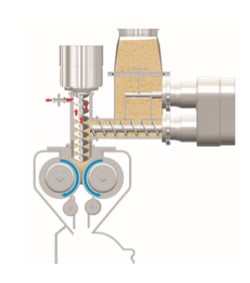 The finished compacts / ribbons are then discharged into the FitzMill™. Fitzpatrick's wide range of available screens and rotor configurations in the milling stage enables achievement of an optimum PSD (particle size distribution) for any given process.
Fitzpatrick's CCS Series also provides a truly scalable equipment growth path. As customers progress from research & development all the way through to full-scale production, results obtained on the smaller models are fully transferable to the larger systems.
What improvements did the customer witness?
Upon installation of the CCS320, the Customer witnessed a significant improvement in both product quality and savings - in the range of 75 – 80%. A quality product was easily achieved with reduced batch times, and minimal handling requirements. Internally, these improvements equated to greatly reduced manpower requirements. Externally, installation of the CCS320 translated to a quality product that exhibited better tablet compression speeds and less weight variation.
By moving to Fitzpatrick's CCS Series of roller compactors, the customer was able process new products via the dry granulation process and achieve faster delivery times for their customer base. Fitzpatrick were able to demonstrate repeatable results with the demo unit. Reduced batch times were easily accomplished with the result being a superior quality product. Local support services were readily available to undertake any necessary provision to train personnel.
Fitzpatrick's CCS Series – the ultimate roller compaction system:
The CCS Series is the ideal roller compaction system for dry granulation of pharmaceutical powders, enabling manufacturers to:
Optimize compact / ribbon uniformity and density

Enhance operator safety and product containment

Minimize maintenance and production downtime

Accelerate scale-up and reduce development costs

Eliminate need for vacuum deaeration

Improve ribbon density
Further roll gap control With industry-leading compaction technology and application expertise, Fitzpatrick is the perfect partner at every stage of production.
Summary:
Fitzpatrick were able to easily fulfill the desired process objectives of the healthcare provider, achieving a marked improvement in product quality, along with considerable cost savings.
Fitzpatrick remain steadfast in their commitment to advancing the performance and profitability of customer powder processing operations, worldwide. Their endurance and unsurpassed diverse process experience has enabled them to traverse the design of world-class products and enhanced engineering capabilities in order to fulfill today's ever-increasing productivity improvement requirements.
Posted by
Helen Desmeules