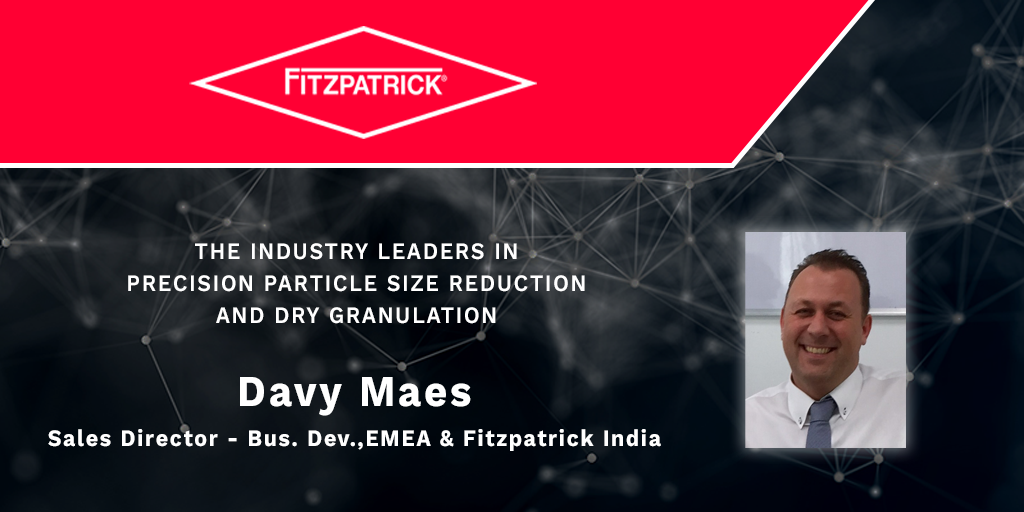 Based on technological evolution, The Fitzpatrick Company has built a world-renowned reputation as an industry leader in precision particle size reduction and dry granulation.
Trusted partners of the world's top pharmaceutical, nutraceutical, chemical and food ingredient processing manufacturers since its foundation in the 1930's, we caught up with our resident Roll Compaction expert, Davy Maes to share his experience and history with particle processing technologies and Roll Compaction:
What is your current role and responsibilities?
I am the Sales & Business Development Director for Fitzpatrick Roll Compaction across Europe, the Middle East, Russia and Africa. Together with our local representations across the region, we directly support all of our customers within these territories on their Roll Compaction/Dry Granulation projects and enjoy a close working relationship with our support team at the Fitzpatrick Head Office based in Waterloo, Canada.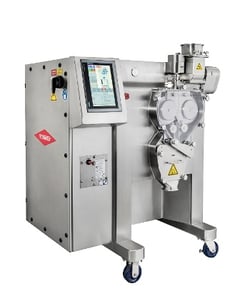 What has been your career experience to date?
Having originally trained as an electrical engineer specializing in industrial automation and control techniques, I began my journey with Fitzpatrick in 1993, initially working 1-2 years in our laboratory carrying out customer trials. Following this, I spent many years as a Commissioning Engineer which involved a wide array of tasks including liaising with our subcontractors, writing specifications for new installations, performing FAT's & SAT's, implementing qualification documentation and overseeing Fitzmill and Roll Compaction installation which involved the training of on-site personnel.
Before my current role, I was our EMEA Customer Care Manager, responsible for all external activities alongside our team based in the region.
This period of learning experience has proved invaluable and allows me to now share this broad technical and process expertise and knowledge and provide commercial support to my customers on their Roll Compaction/dry granulation projects.
Why should you invest in FitzpatrickRoller Compaction and Dry Granulation Technology ?
Roll Compaction and milling has always been the Core and Focus of The Fitzpatrick Company and Pharmaceutical manufacturers' have, over the years, come to recognize Fitzpatrick as a world leader in roll compaction equipment for dry granulation. The culmination of decades of experience with the dry granulation process resulted in the launch of the CCS Series of Contained Compaction Systems in the mid-2000's. Fitzpatrick is simply the right choice.
The dry granulation process looks, at first sight, to be a relatively straight forward and simpler process versus a lot of other granulation techniques, which is true, however there can be many challenges when you try to optimise your process.
With the CCS, you have simply the most innovative design available to optimize your process and ensure you achieve better results when granulating your most challenging products.
Do you want to make your roller compaction process more efficient?
With over +25 years of experience in designing Roll Compaction production lines, I am at your service as well as our trained local representatives to ensure you get the most out of your current or future production and plants.
Discover for yourself why the range of CCS Roll Compactors from Fitzpatrick has become the equipment of choice for many companies around the globe.