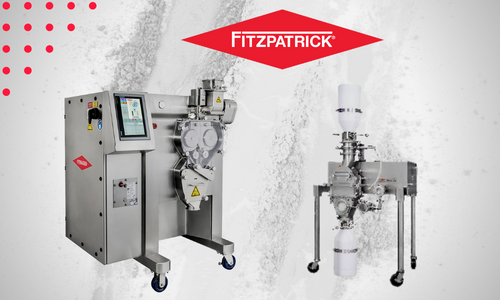 Following the success of the Show in 2018, The Fitzpatrick Company will again be attending P-MEC in Delhi this November. If you are planning on attending, it would be good to see you there as we will be joined by our local team in India, as well as colleagues from Matcon, Quadro and Microfluidics - all part of IDEX Material Processing Technologies.
Held at the India Expo Centre in Delhi, P-MEC aims to highlight the latest trends and innovations in the pharmaceutical solutions market. We look forward to discussing how we can help our visitors to deliver effective practice within the industry that gives them a solid return on their investment.
Visit stand 11.C30 to solve your dry granulation challenges.
If you are facing challenges with establishing a dry granulation process, then please take the opportunity to come and speak to our team of experts at P-MEC.
Do you have reservations as to whether dry granulation / roll compaction could work for you?
Director of Sales & Business Development, Davy Maes will be on-hand to explain how our dry granulation systems work and advise on how you can increase efficiencies.
We will also have Fitzpatrick's innovative and world-class dry granulation contained compaction system CCS320 on display at the stand.
Is your dry granulation process not giving you the output and efficiency you expect? Let the specialists on Stand 11.C30 explain what we can do for you.
Davy will be happy to discuss your current challenges and process requirements, sharing our team's knowledge obtained from over 100 years of experience with Roll Compaction and Milling technologies. Learn more about our Roller Compaction Technology here
To learn more about the exhibitions and events that the Fitzpatrick team attend each year, please visit the IDEX MPT events page.
Posted by
Helen Desmeules