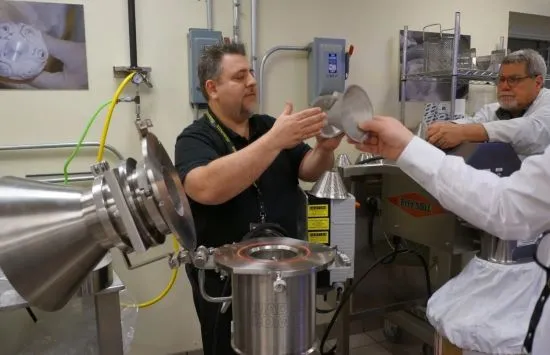 The Fitzpatrick Company were pleased to once again sponsor Techceuticals at their recent training session titled "The Manufacturing Process and Troubleshooting" which was held in Cleveland, Ohio, USA in June.
Our own Wilf Sangüesa was lecturing on the training session which gave participants a 3.5-day comprehensive workshop covering the prerequisites necessary to produce quality tablets and capsules.
What you can expect to learn
Techceuticals is a worldwide solutions provider for tablet and capsule manufacturing operations. They offer training, troubleshooting, and equipment to Pharmaceutical and Dietary Supplement industries.
The "Manufacturing Process and Troubleshooting" workshop combines classroom lectures and hands-on equipment sessions to facilitate an all-inclusive learning experience. Industry experts provided participants with a comprehensive knowledge of solid dosage manufacturing. At the end of the session the attendees should feel confident in being able to look at a formula and determine the processes involved, which boosts their confidence in being able to walk into any pharmaceutical company and fully understand all the equipment and manufacturing pathways.
What constitutes this training?
During the training the participants looked at all stages of the manufacturing process in order to gain an in-depth understanding of all the essentials associated with each step:
Blenders
Mills
Tablet presses
Tooling inspection and care
Film coating
Encapsulation
The new Techceuticals lab/training facility design helped to bring the learning experience to life.
On LinkedIn Wilf's extensive knowledge on milling that he shared at the workshop was praised: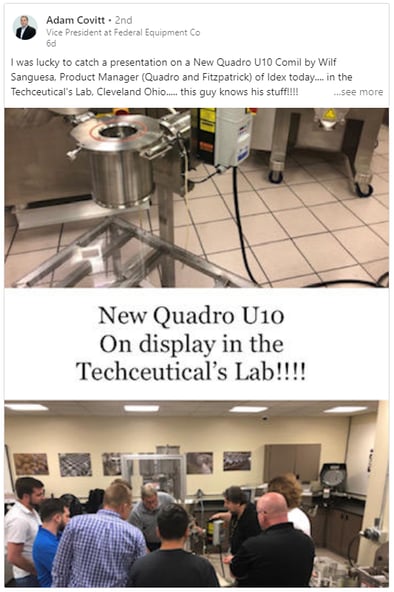 Wilf replied "it is always a pleasure to be able to participate in high-quality training events and Techceuticals/Federal do a fantastic job in organizing them. Thanks again for the opportunity and see you at the next session".
If you are interested in finding out more about these training sessions please visit the Techceuticals site.