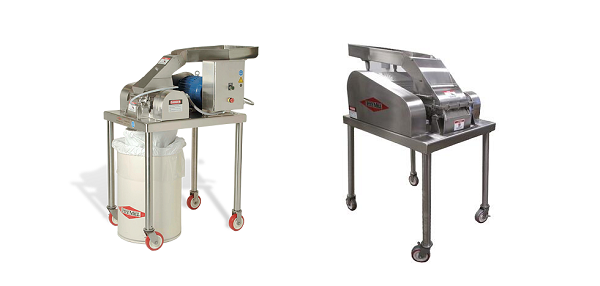 Hemp growers are finding that exploring milling and processing allows them to expand capabilities and improve product revenue through adding value via processing of the raw plant.
Milled hemp is often bought by extraction companies, who extract the CBD oil to transform into consumer products, such as CBD water, capsules, emulsions, tinctures, or CBD isolate.
Alternatively, the extraction and end-product manufacture can all be retained in-house for vertically integrated manufacturing.
Key consideration for manufacturing Hemp and CBD
Newcomers to the hemp and CBD markets will find the product presents distinct challenges, which must be overcome to maximize output:
Outsourcing hemp milling and CBD extraction can adversely affect end product quality, with storage and transporting causing potential cannabidiol attrition. To return the maximum value from harvests we have seen many companies processing as much in-house as possible: vertically integrated manufacturing models seem to be incredibly popular in CBD manufacturing.

Hemp is a heat-sensitive product, with valuable cannabidiols and terpenes that can be lost in poorly controlled temperatures. Excessive heat generated by processing equipment is usually to blame.

Hemp plants are fibrous and often difficult to mill thoroughly as the tough stalks or silica & stones on the roots can cause damage to mill blades.

Achieving a tight particle size distribution of the milled product is ideal for optimum CBD oil extraction, but can be difficult to achieve if the right equipment isn't selected.
Specialist equipment for difficult milling applications
The FitzMill™ is a superior milling technology with a plug-and-play, hassle-free setup. The cGMP-compliant hammer mill is designed to slot right into your process, milling high capacities of hemp with little maintenance. Trusted by food and pharma manufacturers for over 80 years, the FitzMill™ helps you achieve better quality CBD extract by producing uniform hemp particle size distributions. Any target particle size is achievable through adjusting rotor speeds, blades and screens.
Trusted experts in hemp processing
With proven expertise in milling for food and pharmaceutical applications, Fitzpatrick can help you design and create an optimized hemp milling process.
Supported by our sister companies Quadro and Microfluidics™, we are well-placed to guide you through all stages of CBD manufacture, from milling raw hemp, right through to developing CBD-infused beverages and CBD isolate.
Our shared expertise and policy of bespoke technical support means we can work with you to create a robust, vertically integrated CBD production process. As industry experts in materials processing, we proudly offer our bespoke support service as standard, to complement our equipment.
Contact us today for a consultation to discuss your processing needs.
Please note - Fitzpatrick information and literature is intended only for the use of its equipment in jurisdictions where such activities are legal.