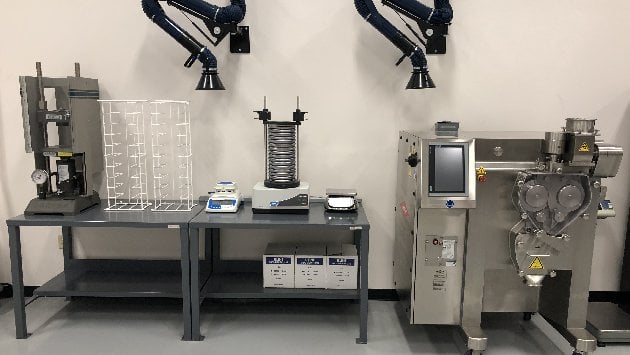 Situated just forty minutes from Philadelphia's International Airport, the location of the Facility makes it extremely convenient for customer visits.
What can you expect?
We have equipped the Test Centre with a CCS320 roll compactor, which sits alongside the Matcon Powder Handling IBC systems. Customers will have an opportunity to have their product tested on this Fitzpatrick equipment, and to witness the results first-hand. Conducting product testing in simulated working conditions helps our customers have confidence when they are making a capital investment in processing equipment.
If you are unable to witness your test, a videotape of the results along with a detailed confidential report can be made available.
What constitutes the Lab's equipment capabilities?
The CCS320 roll compactor is designed for pilot-scale research, so it is ideal for the test lab. All results are directly scalable to production-scale equipment, so a result achieved at Delran will be transferable to your factory environment. Our engineers can use the test results to ensure you buy the right roll compactor and have the parameter settings optimised to meet your processing needs.
We also have benchtop laboratory equipment to assist in the analysis of your material properties before the roll compaction session begins.
Furthermore, having the CCS in a test lab also provides us with a fantastic opportunity to offer demonstrations and conduct training sessions for operators on full scale equipment.
Can products be tested at your site?
In some instances, rental units can be made available for trials at your individual production site. It can sometimes be beneficial and more telling to undertake additional testing in your every-day environmental conditions.
Want to know more?
Fitzpatrick have an ongoing commitment to improving the performance and profitability of our customers' powder processing operations utilizing the CCS Series - Contained Compaction Systems. The CCS Series provides scalable dry granulation systems for pharmaceutical, chemical and food applications, and is the perfect contained compaction solution.

Download the CCS Series Roll Compactor brochure
How do I schedule a test?
Our test personnel have many years of in-depth experience, and are always willing to discuss your application, gain insight into your specific application requirements, and help you to maximize your processing efficiencies.
Just complete and submit the form below and we will contact you to discuss your requirements and schedule your test. Download our bulletin as a reminder of what is available.