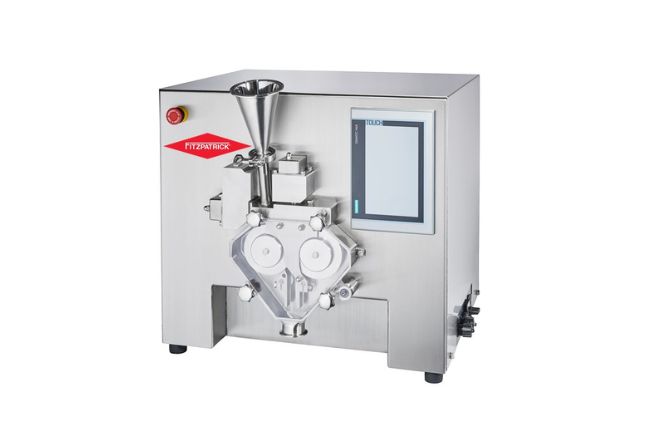 Authentic Benchtop Model Roller Compactor
The Fitzpatrick Company, the most trusted name in roller compaction technology for more than 70 years has launched the LCS – Lab Compaction System, a low-volume benchtop model for R&D and trial batch production. Weighing only 159 kg (350 lb) and able to fit easily on a lab bench, the LCS can attain capacities ranging from 10 g to 6 kg/hr and produces a compact that is comparable to full-scale production models.
Features & Benefits of the LCS – Lab Compaction System
Ideal for proof-of-concept work or for the smallest volume production

Manufactured with Fitzpatrick high-precision, twin feed screw system

20 kN / cm roll pressure equivalent to production-scale systems

Complete disassembly of all contact parts enables thorough cleaning that is quick & easy

Touchpad control of all independent feed & compaction variables

A consistent compaction mechanism ensures easy scale-up to larger production machines

Design optionally available for containment systems

cGMP software option

Choice of roll surfaces
High Precision Roller Compactor
Manufactured with Fitzpatrick's high-precision, twin feed screw system, the LCS processes powders utilizing the same mechanism as larger production-scale systems. With the LCS, you can achieve production-quality process optimization with an R&D scale roller compactor. This capability ensures your development projects can progress to production with confidence.
The available 20 kN/cm roll force is equivalent to production-scale systems and matches the requirement for most pharmaceutical blends.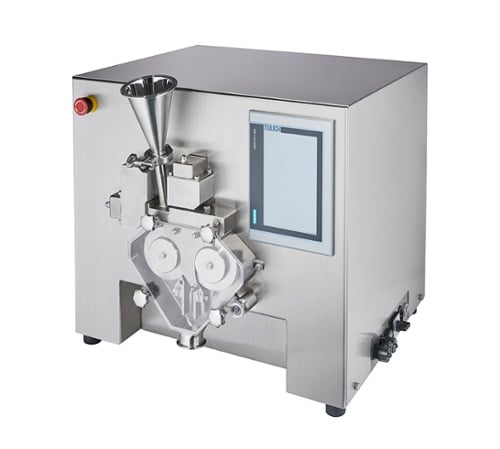 Benchtop Dry Granulation - Product Summary
The Fitzpatrick Company has consistently achieved powder processing innovation excellence. In addition to their CCS & IR range of roller compactors, they have also designed/manufactured & supplied FitzMill™ milling equipment to the pharmaceutical/chemical/food sectors – Worldwide for more than 80 years.

Fitzpatrick is committed to improving the performance and profitability of its customers' powder processing operations. They continually invest in customer-driven innovative solutions and provide long-term global support via their highly technical customer service & spare parts network.

To learn more, please download The LCS Product Overview.
Related Reading on the LCS:
Posted by
Helen Desmeules