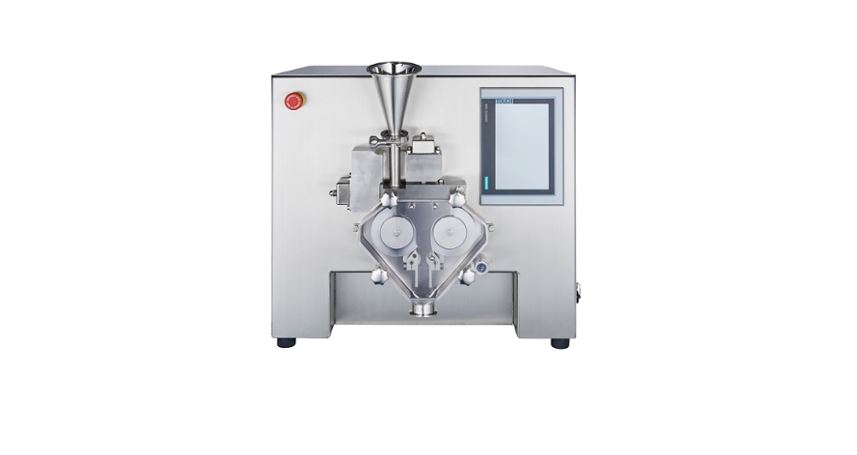 As a direct result of extensive customer research over the past several years, The Fitzpatrick Company is now pleased to introduce the LCS – Lab Compaction System, a low-volume benchtop model for R&D and trial batch dry granulation production.
The LCS is perfect for handling smaller volumes of powder, whether that be for proof-of-concept or for smallest volume production. It has been tested down to 10g of test material having a moderate bulk density. However, should the bulk density be lower, the volume achieved will likewise be even lower.
The LCS Features & Benefits
Truly a benchtop model that can handle capacities of up to 6 kg/hr.

Will work well for installations wanting to use it as their production machine, provided the batch sizes are especially small.

Can be used to produce small batches for product testing or clinical trials.

LCS funnel works well for small volume production & small sample sizes.

The compact produced can be easily replicated on a production-scale model.

Ideal for producing highly potent drugs and owing to its size can easily be configured within a containment system.

Manufactured with Fitzpatrick's high-precision, twin feed screw system – processes powders using the same mechanism as larger production-scale systems.

Ensures development projects can progress to production with confidence.

Available 20 kN/cm roll force is equivalent to production-scale systems & matches the requirement for most pharmaceutical blends.

Features touchpad control of all independent feed & compaction variables.

Overview of Fitzpatrick's Roller Compaction Range
For over 80 years, The Fitzpatrick Company has consistently achieved powder processing innovation excellence. They have designed, manufactured, and supplied the CCS & IR range of roller compactors, in addition to FitzMill™ milling equipment & hammer mills, to the pharmaceutical, chemical, and food sectors - worldwide.
They continually invest in customer-driven innovative solutions and provide long-term global support via their highly technical customer service and spare parts network.
Related Reading:
Posted by
Helen Desmeules