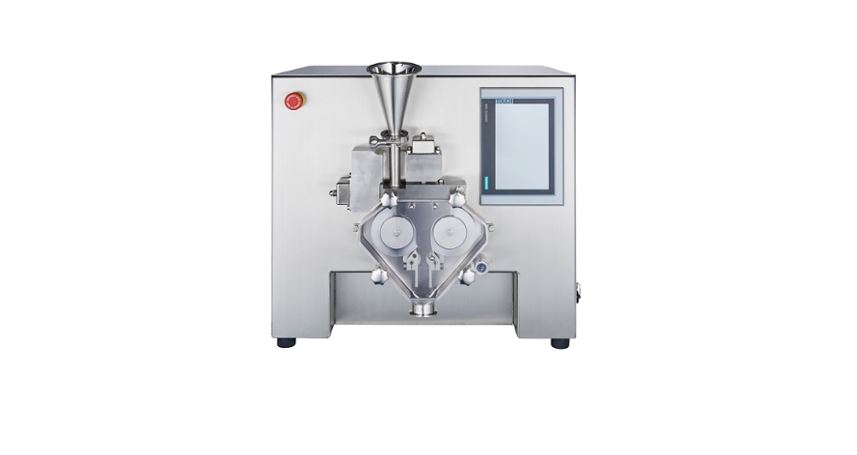 Offering scalable benchtop, high-performance dry granulation, The Fitzpatrick Company, the most trusted name in roller compaction technology for more than 70 years recently launched their new LCS – Lab Compaction System, a low-volume benchtop system for R&D and trial batch production.
Read the Product Press Release - delivering customer obsession in the powder milling & processing industries.
In direct response to customer requirements, our Engineering Team, in collaboration with Product Management, designed/manufactured what was wanted and sought after from a lab-scale model. With the advent of the new LCS, Fitzpatrick has been able to deliver a product that is truly a benchtop dry granulation unit but that produces a ribbon of the same quality as that of production and/or pilot-scale roller compactor.
Fitzpatrick's Lab-Scale Roller Compactor
The LCS has been designed to overcome issues encountered with other "lab-scale" models currently available in the marketplace. Inadequate pre-compression, and insufficient pressure capability, mean existing models might lead researchers to conclude their powder is not suitable for compaction when really it is the equipment that is lacking. Some are just too big to fit on a bench and must, therefore, be free-standing units. This can prove challenging in a lab where space is at a premium.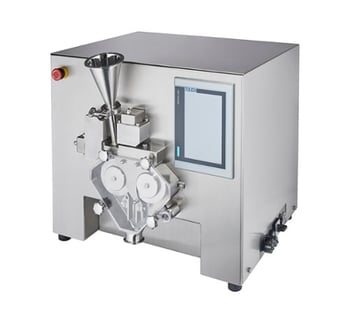 Dimensions of the Fitzpatrick LCS – Lab Compaction System
W x D x H mm (inches) = 690 x 668 x 641 (27 x 26 x 25).

Weight = 159 kg (350 lb).

Other units are either too heavy to lift and/or fit on a standard lab benchtop.




Ideal for proof-of-concept or smallest volume production
In addition to being a true benchtop model, the LCS affords an added advantage, that being that the size of the machine means it can be enclosed if necessary, for the testing of potentially hazardous materials. Fitzpatrick roller compactors offer superior density and particle size control, transforming low bulk density material into uniform granules. They are committed to improving the performance and profitability of their customers' powder processing operations, worldwide. The new LCS has filled a gap in their product portfolio, and Fitzpatrick now offers a complete range of roller compactors to fulfill specific application requirements.
Please visit the LCS - Lab Compaction System page to learn more.
Related Reading:
Posted by
Helen Desmeules