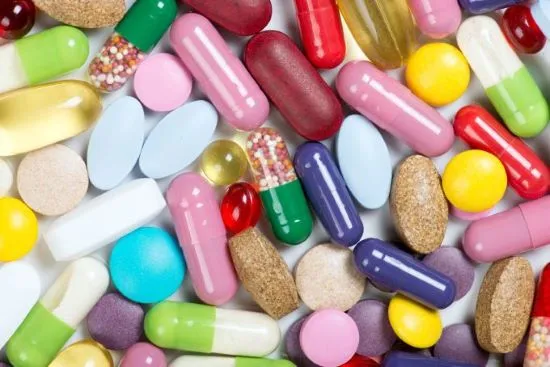 What is Dry Granulation?
Dry granulation produces granules that flow freely without the addition of a liquid solution and can, therefore, be viewed as a "pure" process. Tablet compression is enhanced as the particles are not bonded together by any additives.
Pharmaceutical dry granulation with roll compactors
Roll compactors are used to granulate challenging and poor-flowing materials that are characterized as being moisture and/or heat-sensitive, having a low bulk density, an unfavorable particle size distribution or poor compressibility. The roll compaction process generates granules of equal hardness/size and narrows the particle distribution curve. Today's manufacturers can ensure consistent tablets out of the tablet press by adopting roll compaction as their means of powder granulation. Tablets will have uniform dosage, weight, robustness, desired dissolution rates and ultimately, the best possible efficacy and bioavailability.
Fitzpatrick's approach to roller compaction in pharma
The Fitzpatrick Company originated in 1937 with the development of the Fitzmill™ and in the 1950s, revolutionized the Pharmaceutical Industry with the introduction of the Chilsonator, a dry granulation/roller compactor technology. The culmination of decades of experience with the dry granulation process resulted in the launch of the CCS Series of Contained Compaction Systems. Manufacturers identify Fitzpatrick as a world leader in roll compaction equipment for pharmaceutical manufacturing, having demonstrated an ability to achieve the most uniform compact and ribbon.
Read more: What are the benefits of the dry granulation method in pharmaceuticals?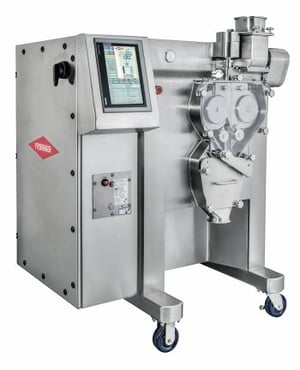 The CCS Series of Roller Compactors
Fitzpatrick's CCS Series of roll compactors produces uniform ribbons which translates into the formation of uniform granules. The optimized granulated material improves downstream powder flow characteristics and subsequently, maximizes tableting efficiencies. This is achieved via a unique dual-feed pre-compression feed system and precision real-time roll gap control.

The horizontal feed screw meters a consistent flow of powder to the process. The high-speed vertically mounted pre-compression screw provides deaeration and pre-compression of product prior to the compaction stage, helping to achieve a more consistent ribbon density. Powder is optimally compressed without any gravitational bias prior to moving through the rollers.
In the compaction stage, powder is fed between two counter-rotating rolls and pressed, creating a dense, compact ribbon. The volumetric reduction of feed material in the nip area determines the degree of densification.

Factors controlling the compaction process are roll surface, diameter & width, peripheral speed, roll force and gap between the rolls. The hydraulic system produces a precise and constant force which ensures a uniform compact. To ensure the best possible ribbon is generated, gap control is achieved by automatically adjusting the "floating" roll via the CCS control panel's feedback loop programming.

The inherent software of the CCS when combined with built-in security and administrative controls, provides an added layer of document/process control and accountability, which is consistent throughout the entire CCS Series range.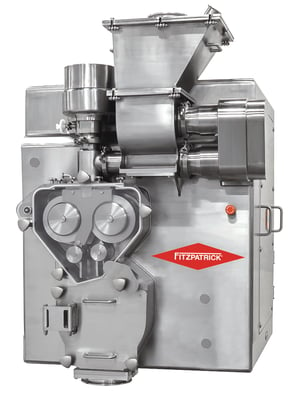 Lab-scale roller compactor to full production
Fitzpatrick's CCS Series offers a truly scalable equipment growth path. When production requirements increase, the CCS Series grows with you. As customers progress from research and development all the way through to full production, results acquired on smaller models are fully transferable to larger systems, without the need for additional operator training.
Two powder milling alternatives
With every CCS, Fitzpatrick offers two unique milling setups achieved with a simple rotor and RPM change. One option is to use the integrated FitzMill™ with a knife rotor for "in-air" size reduction. This is typically adopted for harder compacts. Alternatively, the mill can be equipped with a bar rotor for "crushing" reduction – used at low speeds for softer compacts and to reduce fines. A factory pre-set optimum clearance between the rotor and screen prevents operators from inadvertently changing particle size distribution (PSD).

Fitzpatrick has developed the greatest selection of rotor & screen combinations and has made them available for the CCS range. These distinctively configurable options can solve most powder conditioning requirements and achieve the tightest particle size distributions of any manufacturer. Virtually no manual adjustments are required, thereby eliminating the potential for operator error.
Designed with the user in mind
Fitzpatrick's endurance and unrivaled process experience have facilitated the design of world-class products and enhanced engineering capabilities. The CCS Series has been designed with the user in mind. Equipment is easy to maintain with fewer parts to remove during cleaning cycles, thereby maximizing up-time.
Fitzpatrick has pre-set software comprising an admin and user-level security clearance that extends to engineering/maintenance / supervisory / operator personnel, thereby ensuring that no unauthorized personnel is able to change recipe-based settings or cause unexpected errors.
Improved Service & Profitability
Fitzpatrick manufactures robust equipment that is built to last. This will appeal to manufacturers who are looking to minimize their capital investment and maximize their return on investment.

Fitzpatrick is committed to improving the performance and profitability of customer powder processing operations. Customers are backed by world-leading application and development experts who offer support worldwide. Fitzpatrick continually invests in customer-driven innovative solutions to address market needs.

Dedicated to offering long-term support services through a highly technical aftermarket service and spare parts network team, Fitzpatrick has auxiliary personnel available to offer their assistance whenever and wherever it may be required.
To learn more about Fitzpatrick's CCS Series, please download the brochure below.